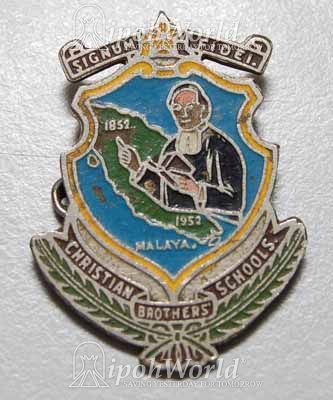 The Centenary Badge
The above badge has the words "Christian Brothers' Schools" and "Signum Fidei" clearly printed on it, one at the bottom of the badge and the other at the top. In between there is an image of Peninsula Malaysia as well as a figure of a Catholic Brother. At the top end of the image of Peninsula Malaysia the numbers "1852" can be seen while at the lower end the numbers "1952" are printed.
The Christian Brothers' Schools are a vast network of schools set up by the Institute of the Brothers of the Christian Schools, founded in 1680 by St. John Baptist de la Salle. De la Salle was a canon of the cathedral in Rheims, France. Struck by the ignorance of the masses towards knowledge and religion, he gradually became involved with charitable schools. He worked alongside a layman, M. Nyel, to set up free schools for the children of the working class and the poor and trained a group of young men to teach and live in these schools, eventually moving in with them himself. De la Salle implemented innovative education methods and together with his Brothers, succeeded in creating a large network of schools in France. By the end of the 19th century, the institute had 14 631 Brothers working in 35 different countries.
When "secularization laws" were enacted in France in 1904, many of these schools were forced to close and The Brothers who ran it turned instead to faraway lands, continuing their religious life in countries such as Belgium, Canada, and Spain as well as Argentina, Colombia, Ecuador, Egypt, Brazil, Panama, Mexico, North Africa, and Australia. These days, the community is headed by a Superior General with the assistance of a General Council. As of 2000, the Superior General is Brother Alvaro Rodriguez Echeverria, FSC, of Costa Rica. According to the Brothers of the Christian Schools website, the Brothers now minister, together with over 73,000 lay colleagues, to more than 900,000 students in 80 countries. "Signum Fidei", meaning "sign of faith", is the motto of the Institute of the Brothers of the Christian Schools.
In Malaysia, at least 22 schools were founded by Christian Brothers, including a number of prominent schools like St Xavier's Institution in Penang, St John's Institution in Kuala Lumpur and Ipoh's very own St Michael's Institution. The history of the Brothers in Malaya starts with St. Xavier's Institution which goes back to 1852, when De La Salle Christian Brothers took over a Malay medium school which was started even earlier, in 1787, and renamed it the St. Francis Xavier's Free School.
Consequently, the numbers written on the badge signify the celebration of the brothers first 100 years missionary educational service in Malaya.
To find out more about the Brothers and their work throughout the world, visit their website at http://www.lasalle2.org/index.html.
Source: ipohworld.org